"Peace I give to you, my own peace I give you, a peace which the world cannot give, this is my gift to you"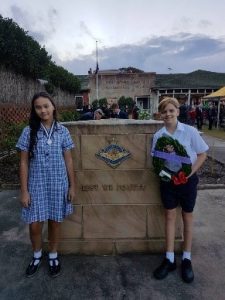 Two of our school leaders attended the Willoughby Club ANZAC Day memorial commemoration.  This was a moving service and our students were so reverent.  In an era where peace is greatly needed, it was timely to stop and thank God for the many men and woman who have given their lives to bring about peace in our world.
The Year 6 students continued this message of peace by leading the school in our ANZAC Day service on Monday.  The students reminded us that Jesus came to bring peace and that we are all called to share God's love with others.  May this continue to be our prayer in our school and our homes as we continue our journey through the Season of Easter.