The Children of Year 2 have a much greater appreciation of influential architect Walter Burley Griffin following a presentation by Adrienne Kabos, a founding member of the Walter Burley Griffin Society of Australia.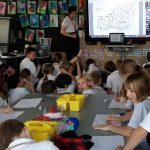 The children learnt that aside from designing the city of Canberra, Walter and his wife Marion then acquired land and provided the urban design for what is now the southern end of Castlecrag. Their affinity for Castlecrag came when they first arrived in Sydney by ship en route to Canberra. They were struck by the immense beauty of the foreshore and by the destruction of land in surrounding areas of the Sydney shoreline. From this moment, the Griffins demonstrated a deep commitment to the Australian landscape and their designs reflected this. In Castlecrag today, the reason you have curved streets is so at any time you can see nature such as trees or bush rocks in the foreground. The flat houses were a deliberate design so surrounding people in houses or on the many pathways he and Marion designed meant you could also appreciate an unobstructed view of bushland and of the harbour.
Mrs Kabos is very fortunate to be a resident in a Griffin-designed house on The Parapet. Of the 70 houses he designed for Castlecrag she said 14 were built because the onset of the Depression meant so many people couldn't afford to build.
Throughout the presentation she was inundated with questions. We perhaps just may see a budding architect or landscape designer emerge from this cohort following Mrs Kabos' insights. The school thanks her for generously preparing the presentation to the children.
Mr Dahdah