Congratulations to all the following students for their achievements at the Broken Bay Athletics Carnival on Tuesday 3 September. First, Second and Third places are through to the Polding Athletics at Homebush on Friday 18th October 2019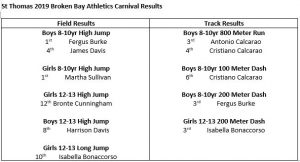 On a High: Fergus and Martha leap into unexpected success
Two Year 4 students, Martha S and Fergus B have made it into the Polding Athletics Carnival – for high jump.
Both children came first in their Junior high jump categories at yesterday's Diocesan carnival at the Sydney Academy of Sport and Recreation in Narrabeen.
Initially, the pair competed in the recent Cluster carnival for long jump, but as part of that discipline also qualified for High jump. This success was unforeseen.
"Everyone in my family was very surprised because I have never done high jump before," said Martha.
She competed against 10 others and after a starting height of 1m, finished at 1.23 – well past her nearest competitor who bowed out at 1.15m.
Similarly, Fergus exceeded his expectations. He finished third in the high jump at Cluster. However, on Tuesday, he came first with a winning height of 1.33m.
"At the start I was nervous as it was the first event that I did at the carnival," he said.
Prior to yesterday's jump, Fergus has been practising at a park in Lane Cove which has a high jump mat.
To hone her skills Martha even turned to the internet – "I Looked up on YouTube for videos on how to do it" she said!
The St Thomas junior high jumpers had a great day, with James D coming fourth with a height of 1.29m.
By Year 4 Students