Different perspectives key to quality journalism
What does a skinhead have to do with quality journalism? This unusual scenario was what Year 4 children pondered when guest speaker DAVID MUNK spoke of the importance of taking in different perspectives before committing words to a news article.
Mr Munk is the Deputy Editor of the online newspaper The Guardian Australia and quite fortuitously for us at St Thomas, also the neighbour of Archer W in 4B.
An Englishman himself, Mr Munk first had to explain to the children what a skinhead was. The children briefly heard how it was a subculture which came to be associated with crime and violence in England a few decades ago.
He then showed The Guardian's famous 'Points of View' advertisement which aired in Britain in the 1980s.
In it, it shows a skinhead from one angle who appears to be racing towards a businessman to wrestle his briefcase from his hands. But the camera then cuts to a wide shot and viewers see that he is in fact trying to rescue the man from falling bricks above.
Only when the viewer sees all the angles do they know the real truth.
The same applies to journalism.
"Be like a detective and ask questions," said Mr Munk. The more questions a journalist asks — and from all perspectives – the more accurate a news story will be, he said.
He told the children that sticking to the facts was a sure-fire way of writing a good news story. He also encouraged the children keep their sentences short.
Mr Munk's final piece of advice was to read widely.
"Read anything. Read as much as you can: The Guardian, The Australia, Crickey, Mamma Mia," he said.
    "Broaden your mind."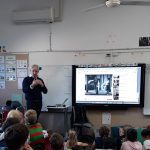 Howard Dahdah – Yr 4 Teacher