Thank you to everyone who was able to provide feedback on home-based learning (HBL). I have included a link to the survey results including all short text answers so that you can see the range of responses received – https://www.surveymonkey.com/stories/SM-W6RHFDXJ/
For those who just want the highlights here are some word clouds.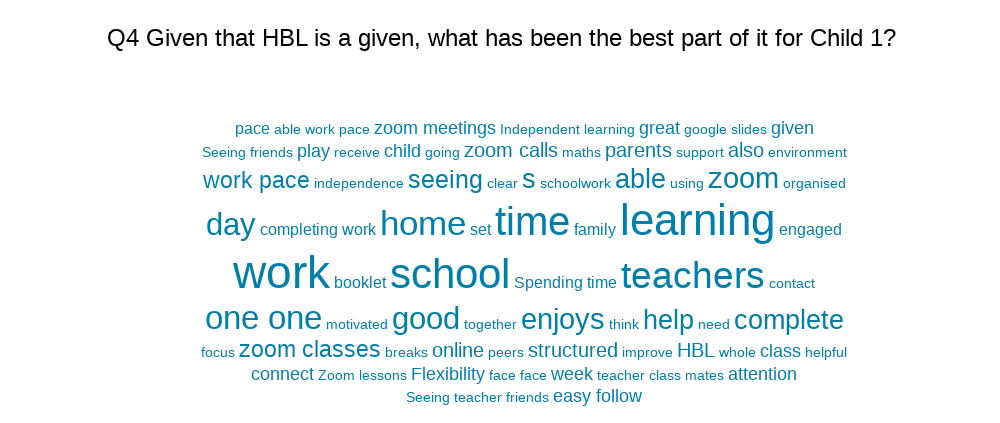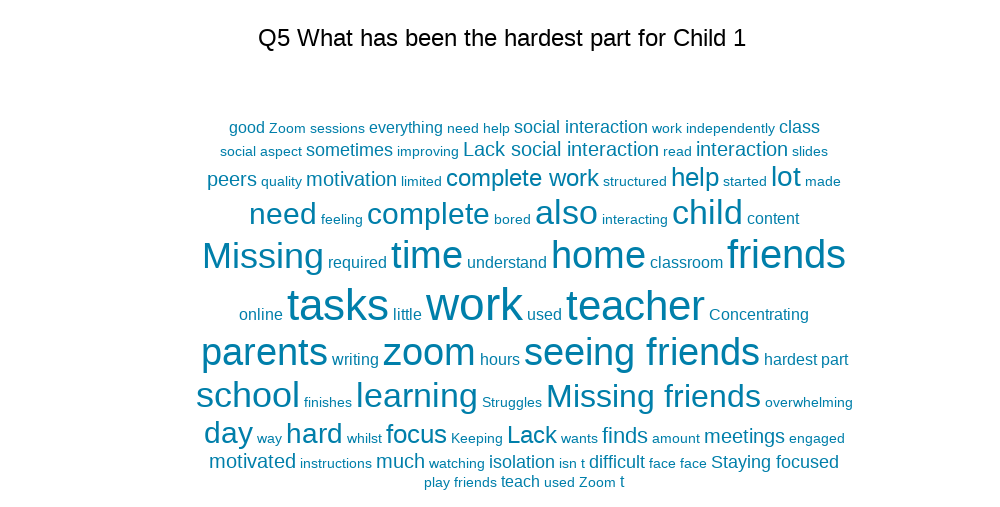 While providing a perfect solution for everyone is not possible the teachers have accepted and modified accordingly all of the feedback I have given them, and I believe they are doing a great job under extremely difficult circumstances which few if any other schools are managing.
I will summarise what I believe to be the case currently Kindergarten to Year 6. All whole class compulsory zooms begin at or around 9am with a writing lesson for 20-30 minutes followed by a mathematics lesson for 20-30 minutes. These sessions are not meant to allow children to complete all the work set in these areas but to give them time to commence work and then return to it later in the morning.
Small group intensive teaching sessions for reading follow this with each teacher doing two per day. Teachers then mark or respond to work submitted online or on paper packs. As of this week all
marked work will be returned to you with the new pack. They answer email or google doc questions and plan and prepare for the following week's pack.
On the one day per week when no zooms are scheduled for each teacher teachers are rostered to supervise at school. The reason for this is we have 1/3rd of our enrolment physically attending each day. I am told that some schools are providing more online hours, similar to the normal school day. All that I have followed up are private schools with up to three times the staff and often charging 3 to 6 times the fees. St Aloysius, St Ignatius and St Pius are sited as examples of this. No students are attending these schools, they are all completing HBL.
Teachers are trialling Mote to verbally leave feedback on work rather than writing feedback which has streamlined the response process this week for Year 6. Stay tuned for more updates.
Today you will have been notified of my decision to retire at the end of the year. This is my twelfth year at St Thomas and I believe our most successful to date. Our NAPLAN results which we have just received are astounding (family copies to be supplied to the school later this term), especially in our focus areas of Reading and Spelling.
Once we have access to the data in an analysis tool we will provide greater depth to the information we have given you and we will use this to guide our goal setting moving forward.