Woolworths really knows how to put the cat among the pigeons. We are experiencing Ooshie mania here at St Thomas. They are the cutest, most non-functional, environmentally unfriendly toy since the Coles shopping promotion.
There are several reasons we would like Ooshies to stay at home and I will list some of them for you:
They cannot be left in bags as they seem to wander off. This happened yesterday and despite spending a lot of time today trying to locate them they are still missing.
If taken to the classroom students find it impossible not to play with them, distracting themselves and others.
The younger students become distressed when older student engage in swapping which turns out to be more like being conned.
I don't think any of the above happening is because students are bad just that they are children and they haven't yet developed the ability to understand right from wrong.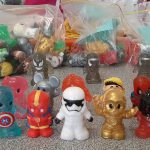 I would really appreciate it if you could ensure that these toys do not come to school.
Thank you