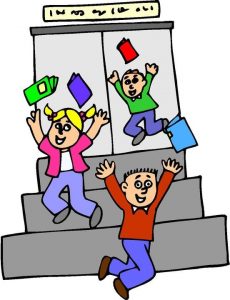 Thank you for all your HELP
Thank you to everyone of you who have made an enormous difference to the dismissal process each afternoon. Kiss & Ride has been running very smoothly with teachers telling me that after Kindergarten and Year 1 are underway the rest of the duty works well with cars moving up to the driveway and the next two cars queuing at the beginning of the No Parking area. The children now know to move to the numbered witches' hat they are told. This has allowed the teacher to call the next three families out and have them ready.
The dismissal on the front playground also seems to have become smoother with more certainty around the times for collections. All the siblings seem prepared to come down to the playground in time for family collection.
Kiss & Ride and Front Playground collection will be from the following times:
2:50 pm for Kinder & Year 1 (plus older siblings)
3:05 pm for Year 2 & Year 3 (plus older siblings)
3:15 pm for Years 4-6 (This is a slight change as it is taking longer to dismiss the younger grades)
I am reading the children's end of semester reports at the moment and can see how hard it has been for both the children and their teachers to prepare for these to be written after such a long break. I hope to catch up with you all before the end of term.
Family Survey Results June 2020
Thank you to the 91 parents/caregivers who completed this recent Catholic Schools Office survey.
Below are the graphs of the responses to Q. 1- 4 that covered the recent 'Home Based Learning' and 'Return to School'.
St Thomas Staff are currently working through the comment sections and incorporating them into our planning where applicable.
Q1 I have been supported by my school during the COVID 19 CRISIS
Q2 My School was responsive to my child's home based learning needs
Q3  I am confident with my school's processes for a safe return to face to face learning
Q4 I believe my school will minimise the impact of the disruption that has occurred to face to face learning
Again thank you for the time you put into this task.