COVID19 Prayer
that has sustained me through a turbulent time
Dear Lord,
Today I give you all that I am. I invite you into the weak places in my life so that you can turn them into strengths. Amen
Social Media
Unfortunately, social media seems to be playing havoc with the children's social lives and feelings of wellbeing. Some children are made aware by others that less than kind things are being shared about them on platforms they all seem to use.
Then individuals are blocked after being invited into a group with the dual purpose of enabling the negative chat to continue and the additional benefit of communicating that the child is no longer welcome in the group when they are blocked.
At school we talk about these things not as 'friendship fires' but as 'mean to me on purpose'. All of this is happening outside of school but the ramifications of it are causing difficulties for us with students distressed by the ongoing meanness.
I don't think this is premeditated but it is nasty and can do as much damage to the recipient as to the perpetrator. I would ask that over the holidays you discuss this issue with you children and go through their posts with them.
The link below has lots of useful information you might find helpful. https://raisingchildren.net.au/pre-teens
What St Thomas Fee Account Actually Covers
Please remember that if your income has been adversely affected by COVID19 there is relief available.  The forms can be accessed via our school website.
This is a little exercise I do each year to remind myself that what St Thomas provides is amazing for the fees we charge.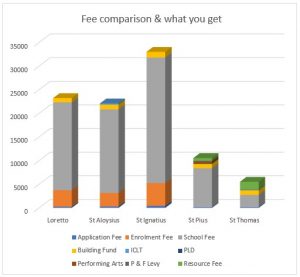 None of the above schools other than St Thomas advertise the cost of camps and excursions or incursions on their fee page. Some decline to list the cost of instrumental tuition as well therefore I have not included those charges.
Included in our resource fee are all excursions (Grades organise their own) and incursions (Musica Viva, Opera Australia), Swimming Program K-2, Surf Skills 3-6, Gala Days and Swimming/ Cross Country and Athletics Carnivals (school based and then Cluster) and St Thomas Musical every two years, 24 hour accident insurance. Universally these are not included in the list of fees for the above schools.
No amount of money is easy to pay out on a regular basis, but I thought I would share this with you. All the above information is available on each school's website.