Navy Sports Top
I have heard back from Lowes recently and in the absence of our account manager (she was on holidays) they have ordered the year supply of white sports shirts for 2020. While this is most disappointing they have suggested they can reduce the price of the existing stock to move it more quickly. I will follow up with them to ensure this occurs.
The navy sports shirt will be available for the 2021 school year with a two year phasing in period 2021 – 2023. Many of you may not move into the new top during your child's time here I am sorry to say.
Sports Shoes
At almost exactly this time of year last year, a survey was conducted regarding your attitude towards the uniform policy in relation to the colour of sports shoes. Recently I received an email regarding the survey outcome and the reporting of the results. I have attached a link to the full results here for your information.
It is my understanding that it is difficult to locate white sports shoes now and that due to this it would be worth ascertaining parents' current views.
In order to change uniform policy a majority of parent respondents must agree to the proposed change so I would ask that you all respond. I will not be resurveying parents for another 3 years on this topic and the policy will be changed in accordance with the parent response.
Please click on the link here to complete the school sports survey.
Disabled parking change outside the St Thomas Church in Horsley Ave
Some time ago I requested a change in the disabled parking availability near the school for Grandparents collecting children from school. The council has just notified me that the request has been approved. The sign will be installed soon.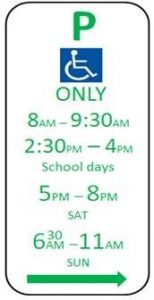 School Bus to Artarmon
I have had a request from a parent regarding a extension of an existing Willoughby Girls High School Bus which follows the route in the map below. In order to petition for the bus service I need to have a reasonable idea of how many students may make use of the service.
If you think you children may find it useful please complete the Google Survey Form here
The Service is the 759 afternoon service . The service currently departs:
Willoughby Girls Keary St,
Left in laurel St,
Left Penshurst,
left Mowbray Rd,
Right Willoughby Rd,
Right Penkivil St ,
Left Edward St,
Right Artarmon Rd,
Right Elizabeth St,
Service terminates Elizabeth St opposite Cambridge Rd.