Taj M (Yr 6) makes it through to Nationals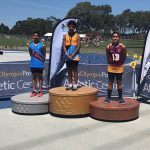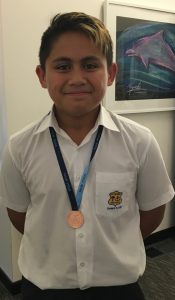 After recording a Broken Bay record shot put throw, Taj went on to record a personal best at the NSW PSSA Athletics Championships achieving third place with a throw of 13.13 metres in order to qualify for the Nationals competition in Melbourne on 22-27 November, 2018 .
Taj quoted Kevin Durant, 'Hard work beats talent, when talents doesn't work hard' and said he aims to get into the top either throws at Nationals.
Good luck Taj!
Isabella B (5B) foot faults on her way to a personal best at State
As every athlete knows the preparation of months can all be undone in an instant when a drift across a lane marking can result in a disqualification. Last week Isabella made the semi-finals in the 200 metres at the NSW PSSA Athletics Championships.
She hoped for a good run with a personal best. That is exactly what she thought she had achieved when she crossed the finish line only to be informed later that her foot had crossed the lane marking at the start of the bend resulting in a disqualification.
This was hard news to take but in true athlete spirit she wrote the following article: "31 October nerves were rumbling throughout my stomach. They wouldn't stop until my first event which was the 200m There were girls who were double my height, girls beating my time..these nerves were never ending. Heat 3, I came to the start line. Oh gosh that's me I said in my mind. On your mark, get set, go!. I sprinted as fast as I could around the bend coming in 3rd to the finish line. Yes!  I was so relieved – 3rd place ! Then over the PA system cam "can a team manager please come to the finish line?" I knew when they call a manager something isn't right. As I'm walking off, one of the officials says "Isabella, can you please come here?" Oh no, what did I do? The official said "I'm sorry to say but you've been disqualified because your foot stepped out of your lane". I felt so disappointed and distraught. I felt like crying, but didn't want to embarrass myself. I now realise how strict the rules are. There is so much to take in as you are running".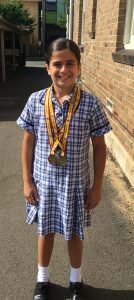 Staffing for 2019
Classroom teaching staff have been finalised for 2019. The standard of applicants has been extraordinarily high. I can now confirm the following class teachers: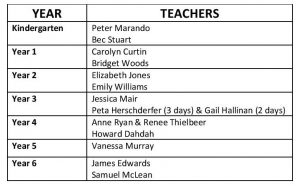 Exciting news, Mrs Curtin is expecting a baby and will move up with her class. She will be replaced at the end of Term 1 when she goes on maternity leave. In this way disruption to the children's learning should be minimised.
Mrs Statos has requested and had approved an additional year of maternity leave. Her position has been advertised.
Mrs Hall, our Special Needs Teacher as informed me that she will retire from her position at the end of this year. Her position will be advertised this week.
As soon as these appointments have been made I will notify you.
Time to dream
For the first time in many years we find ourselves in a position to think of things we would love to do with Art & Craft Show funds. I would like to hear from the community, parents, teachers and students about what we should do with this year's funds.
There are some Diocesan parameters within which we must work. Funds cannot be used to fund staffing or upgrade facilities which are not solely for school use. If you have ideas please respond using the google link here
Art & Craft Show
Thank you, from the bottom of my heart. Words cannot convey the gratitude I feel towards the St Thomas community yet again for the effort needed to host the 2018 A & C Show. The commitment to your children's school is humbling. Below are a few photos from the day.