On Sunday we had the opportunity to extend a warm welcome to all our new students, their families and new members of staff. In the spirit of community and great hospitality we gathered for our Opening of the School Year Mass.  Fr Brian led us in praying a blessing upon our year and the senior students were so gentle and welcoming of their Kinder Buddies during the entrance procession!  Certainly a rite of passage for the Year 5 and 6 students as well as for our Kinder students.
Now that we have settled into the daily routine, I ask that each family continues to pray for the many who need our prayers at this time. As a nation we certainly have had a rocky start to the year and it has been one of heartbreak for so many.  We share the pain of those who have been impacted by the bushfires that continue to burn, we reach out to those with the compassion of Jesus who are troubled or impacted by the events unfolding with our northern neighbours in China.
It is the year of 2020, and as Fr Brian said during Sunday's homily, the year of 20/20 vision.  St Thomas'  Catholic Primary School was founded by the Sisters of St Joseph and as 'Josephites' let us, like St Mary MacKillop,  be the eyes of God in our community – to see a need and to do something about it.
Throughout the year I will communicate information regarding upcoming Masses, liturgical celebrations and opportunities for parent retreats.  Tomorrow our Year 6 students will attend the 9am Parish Mass, followed by Reconciliation and each Monday morning parents are invited to pray with the school community at the start of the School Assembly.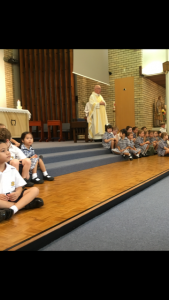 Kind regards
Elizabeth Jones