KW hard at work selling the class the class pet – Jamal!
This week KW has been hard at work counting money and looking at different combinations of coins to make 50c, $1 and even $2.  We decided to put a "price tag" on Jamal our class pet!  Look at the great combinations of coins that they are discovering that can make $2.  Later this week we will be designing our own lunch order during Maths time (don't worry mum's and dad's it just for play based Maths learning!)
And in Sport kindergarten are practising yoga ….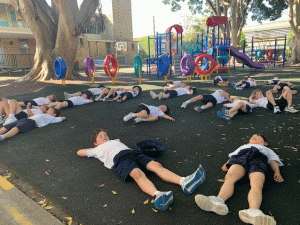 Recently KB read the big book, 'Grumpy  Bear'.
We talked about what made us grumpy and then got to thinking; so, here are some examples our grumpy faces!