Congratulations to the following students for completing their PRC over the past fortnight.
Elena H (KB), Emily P (KY), Darcy M (1Y), Cristiano C (1B), Christian M (1Y), Amelia Mc (1Y), Emma T (1B), Liam M (1B), Ben B (2B), Mena K (2B), Sara C (2Y), Claudia W (2B),
Stephanie W, (2B), Madeleine M (3Y), Rose T (3B), Ava D (3Y), Lawson B (4B), Louis M (4Y), Audrey W (4B)
We have now well and truly passed last year's record of completed PRCs and are well on the way of reaching the goal of 130, which was set in the beginning of the year. If you haven't logged in your books yet, this is the last week you have to do it. If there are any additions after this date, you have until the 7th of September to email me the list of books to add to your child's list. For Kindergarten, Year 1 and 2, I've been adding books read in the library and in class, so many children are close to completing the Challenge, but need a few extra books that have been read at home. If you need any assistance, please email me on talin.ekmekjian@dbb.catholic.edu.au
Book Week
Last week for Book Week, we celebrated with an awards ceremony during library lessons. It was fantastic to see the children using their imaginations with their little dress ups and enjoying the spirit of the ceremony. Congratulations to all the winners of the CBCA Book Week awards. All shortlisted books were worthy.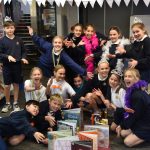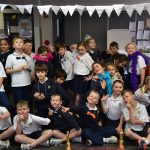 Author Visit
In Week 9, our author visit will take place. Oliver Phommavanh will be coming on Monday to speak to the students about his experiences as an author. If you own any of Oliver's books, you might like to bring them to school on that day to have them autographed.
Talin Ekmekjian – Librarian & ICLT Co-ordinator