By Liliana C
Samuel H's parents came to school on the last Tuesday of Term 3 to tell 4Y about their jobs as Sonographers.
Matt and Rachel brought in a portable ultra sound machine – worth $50,000 – and connected that to the Commbox unit in our class.
Samuel was quite happy about this experience. "I feel nervous and very excited. I hope they do it again in the future," he said.
His mother Rachel is a cardio sonographer – she performs ultra sound on hearts at North Shore hospital. With ultra sound, a scanner makes sound waves that bounce off the body and create a picture.
Samuel's parents then demonstrated using an ultra sound machine by laying Samuel on the floor. Rachel then scanned his heart which we could then see an image of it on the Combox.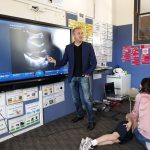 To finish things up they brought in a T-shirt called the Virtuali Tee. This was connected to an iPhone app and it allowed us to 'see inside' the wearer's body.
When they left, all of 4Y had learnt something new.