The new Mondo Recycling Hub has been installed! It is located in the back playground, next to the sandpit. All students can bring in their old hats, shoes, and clothes, as long as they are in usable condition, and put them inside the hub. For every kilogram of clothing we collect, the school receives ten cents, so if you have some old clothes that are too small but are in good condition, p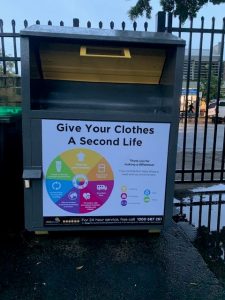 lease bring them in. If there is no room left in the hub, please do not leave them outside as they will get ruined. The hub is always open, so put your clothing in when it suits you.
On Tuesday 6th August the Year 6 Environment Team went to Taronga Zoo. The learnt ways to reduce the use of plastic and find sustainable ways of replacing single use plastics. Throughout the day, they listened to presenters on how they have made a positive impact on the environment on an issue that was important to them. They also brainstormed ideas on how the school can become more sustainable and environmentally friendly.