Year 3 students have been investigating how we as Environmental Scientists, create a product using sustainable materials that will encourage the reduction of landfill for the benefit of local and global communities.
We have had guest speakers come in to talk to us for PBL (Project Based Learning). We have had three guest speakers so far and one of them was Clare Press (Sophie's Aunty). She works for the magazine Vogue as their Sustainability Editor.
When Clare came in she wore a skirt made out of polyester and polyester is made out of plastic. So that skirt was definitely upcycled! Clare also explained that if you want to do something to help the environment and you're only a kid you can create a vegetable patch.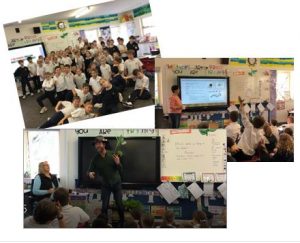 By Giselle 3Y