Broken Bay Cricket Trials – invitation to nominate
Any students in year 5 or 6, who play cricket competitively are invited to nominate themselves to attend the Broken Bay Cricket Trials at St Ives on Tuesday 13th July. Please email the school office for more information.
Tennis in Sport
Last week we concluded our 4-week tennis program in sport with Inspire Tennis. Coaches Matthew, Eddie and Jason were a huge hit with all the students.
It was great to see so much engagement, enjoyment and development of skills over the 4 weeks.
It was also a huge privilege to be provided with the sporting schools grant in order to purchase the tennis equipment and have the lessons provided – as it was so successful, we will aim to provide a similar program this time next year. We will also now be able to bring out tennis more often throughout the year at St Thomas as we now have the gear!
If your child has shown a new-found interest in tennis, the guys at Inspire Tennis would love to help you out (see flyer at the end of the newsletter). They offer holiday programs and weekly tennis lessons (for kids and adults) – a great way to use your Active kids vouchers of you haven't already.
Students will now move into learning some athletics skills in sport in preparation for our athletics carnival in week 1 next term!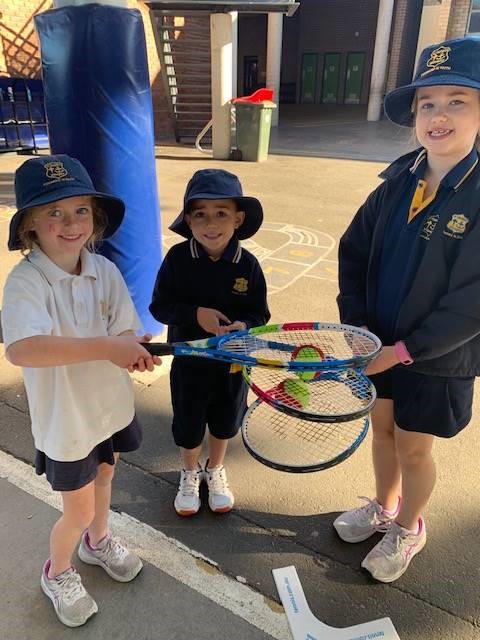 Congratulations Billy and Fergus on Broken Bay Rugby Union Selection
Billy S and Fergus B ( year 6) attended the Broken Bay Rugby Union Trials in Kariong in week 5. Both were selected to join the Broken Bay team which will represent the Diocese at Polding on Monday 21st June in Forbes! Congratulations boys on your achievement and we wish you the best of luck at Polding.
Fergus will also be representing Polding at the PSSA Open Rugby League Championships next week in Tamworth – we all wish him the very best of luck for the Championships and look forward to hearing the results.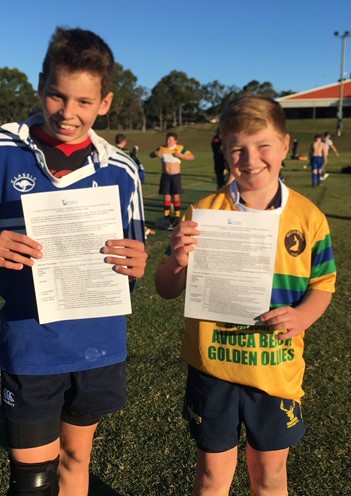 Cristiano and Ed at Polding Cross Country
Cristiano C ( year 4) and Ed B (year 3) represented Broken Bay at the Polding Cross Country Carnival at Eastern Creek yesterday, Tuesday 8th June – both boys competed in a 2km distance for their age group.
Ed finished 29th in the 8/9 years boys event and Cristiano finished 1st in the 10 years age group! The 10 years boys Broken Bay team also finished first on the day. Both boys did so well and should be very proud of their efforts!
Congratulations to Cristiano on making it through to the PSSA cross country championships, scheduled in week 1 next term! Stay tuned for Cristiano's PSSA results!
Ed was also given the privilege of being the Broken Bay flag bearer at the opening ceremony.