On Monday and Tuesday evening, children from the Catholic Parish of the Lower North Shore celebrated their First Reconciliation.  The celebrations were held over four sessions across two of the parish Churches being St Thomas (Willoughby) and St Philip Neri (Northbridge). The children were so reverent and well prepared by Jessica Bousimon the parish Sacramental Co-ordinator and it was so moving to be back in the church.
When reflecting on the gospel reading of the 'Lost Sheep', Fr Brain spoke to the children of how important each of us is to God. Fr Brian reminded us that just like the sheep, even if there was a possibility that the other 99 would move off, God will still search for the 1 that is missing.  This is how much God loves us because God's love for us is unconditional!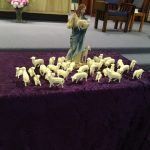 Congratulations to all the children who made their First Reconciliation – a Sacrament of great love and forgiveness.
I would like to leave you with another message Fr Brian gave us on Tuesday evening – "God always wants us to come back!"