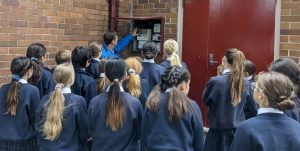 On the 7 August Mr Harrold came into St Thomas to give Year 6 a very educational lesson on the dangers and how to use electricity safely.
He talked about all of the different ways electricity gets into our homes and what happens on the way. Mr Harrold also taught us about all the variety of wires, and how they contribute to keeping us safe, and what their role is. One of the wires we learnt about, is the earth wire. It's a safety wire, and if anything were to happen that could be fatal, it would protect us.
When Mr Harrold was here he had some of his equipment with him which he uses in everyday life. We got to see how they work and what they do to help him fix people's homes. We got some of the kitchen appliances and showed us how many volts there were in them and what the dangerous aspects were.
Looking back it was a very special lesson to have and we are so grateful that we had the opportunity to learn from an expert himself. We have learnt so many helpful things that will help us in the future, and it is a special visit and life lesson we will never forget. Thank you Mr Harrold.
By Bronte C & Jaeger T