We're part of the Lower North Shore Parish
St Thomas Catholic School is part of the Lower North Shore Parish. Our church is St Thomas Church, Willoughby, located next to the school.
Our school community is supported by Very Rev Brian Moloney EV, Rev Tomy Kuruveil Ousseph CFIC and Rev Vincent Musindalo AJ. The Parish of the Lower North Shore's office is situated on the corner of Forsyth and High Streets, opposite Keeler Hardware.
Family Mass with Children's Liturgy is at 9.30am Sunday mornings with a cup of tea to follow.
Our sacramental program is run by the parish and is supported with specific units in the school curriculum.
Whole School Masses are held during the school year at St Thomas Church. Students are also involved in Liturgies and special Family Grade Masses held on Sundays.
In weekend Family Mass, children are invited to serve in ministries including singing and altar serving.
During the Sunday 9:30am Mass there is a parent-run children's liturgy in the school staffroom.
The school and parish work together to fundraise for, and increase awareness of, social justice causes.
St Thomas Church
Corner Horsley Avenue and High Street
Willoughby NSW 2068
(02) 9958 8846
Faith
The Catholic faith guides all our actions at St Thomas. Faith-based learning is woven within our curriculum, with all grades learning Religious Education every day. We have a close relationship with our parish priests and the St Thomas Church community. Parish priests regularly visit our classrooms and spend time with the children and their teachers, focusing on the Religion unit of work at the time.
Mission
Our mission is to educate and form young people in the Catholic faith by creating a place where students:
Grow in their relationship with God;
Strive for excellence in the development of the whole person; and
Reach out through service to others.
The school prayer is included in Monday morning assembly, class assemblies and class prayers. The National Anthem is also sung at all school assemblies.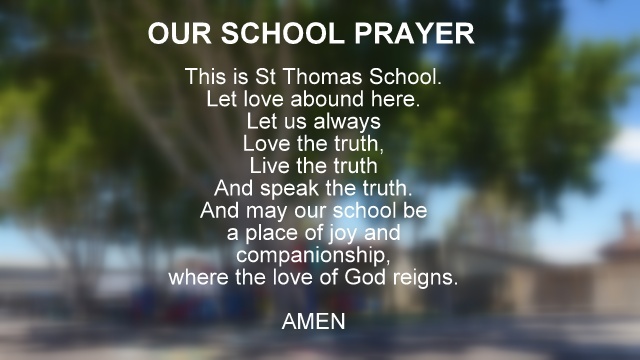 RELIGIOUS EDUCATION