NSW Board of Studies
ACARA
mySchool
Australian Curriculum
ACARA (Australian Curriculum, Assessment and Reporting Authority) is responsible for the development of the Australian curriculum from Kindergarten to Year 12. All schools in Australia are required to follow the Australian Curriculum after an appropriate implementation phase. New South Wales schools teach from NSW Syllabii written for the Australian Curriculum by the NSW Board of Studies.
ACARA's work in developing the Australian curriculum is guided by the 2008 Melbourne Declaration on Educational Goals for Young Australians. The Melbourne Declaration commits "to supporting all young Australians to become successful learners, confident and creative individuals, and active and informed citizens", and to promoting equity and excellence in education. The Australian curriculum will "equip all young Australians with the essential skills, knowledge and capabilities to thrive and compete in a globalised world and information rich workplaces of the current century." The national curriculum will be accessible to all young Australians, regardless of their social or economic background or the school they attend.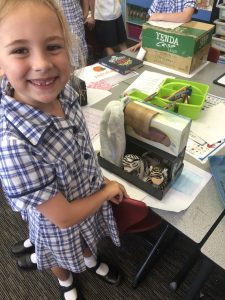 According to the schedule for New South Wales schools, the NSW Syllabii for the Australian Curriculum for English and Mathematics were implemented at St Thomas School in 2014. The NSW Science and Technology Syllabus for the Australian curriculum for Science is being implemented in 2015.
Information about the Australian Curriculum can be found at www.acara.edu.au Catholic School Curriculum.
The curriculum of the Catholic School aims to promote the development of students so they can contribute to society from a Christian Gospel perspective. Guided by this vision, the curriculum contributes to the development of each student as a responsible Christian person who is capable of making genuinely free choices, as well as value judgements enlightened by a formed Christian conscience.
The school continues to develop our teaching and learning environment with the aim to improve student outcomes. St Thomas' students employ Information and Communciation Technologies (ICT) as contemporary learning tools, in the context of meaningful and challenging tasks. Interactive whiteboards, ipads and wireless computer access stimulate collaborative learning in the classroom, and enhance the personal choice and productivity of students.