The K – 6 program offered at St Thomas' covers the mandatory Key Learning Areas (KLAs) for the primary schools in NSW and there is a special place in the daily life and study of the school for Religious Education.
Project Based Learning at St Thomas, Willoughby:
The underpinning beliefs are that project based learning provides the best environmentfor maximum engagement and motivation as an ongoing learner.
Children have an innate desire to puzzle over things and to find things out. Inquiry based learning ensures this desire harnesses this inbuilt acquisitive nature for learning.
Project based learning most closely engages students in real world work with a real audience for a real purpose. It gives natural opportunities for technology to be used to extend the learning of students as project production requires a technology learning strand to be planned and taught.
A third strand of teaching and learning focuses on the team work skills needed for groups to effectively complete their project in a way that all feel valued.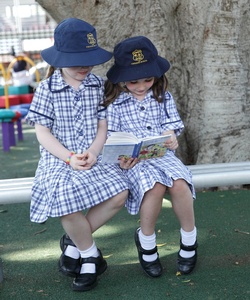 The curriculum is organised into seven KLAs:
Religious Education
English
Mathematics
Science and Technology
Human Society and its Environment (HSIE)
Creative Arts
Personal Development, Health and Physical Education (PDHPE)
St Thomas School employs an Integrated Curriculum. This is an enquiry-based approach to student learning where outcomes are addressed for a number of Key Learning Areas in one unit of work. Key Learning Area's include Science and Technology, Human Society and its Environment, Literacy, Mathematics, Personal Development and Creative Arts. Each term the School holds an open classrooms morning so that parents can 'walk in the walls' of their childs learning journey.
Specialist Teachers (Physical Education, Music and Library) work with classes and groups of children to enrich the program offered by the School. St Thomas School has an extensive band and choir program. Small group vocal and instrumental groups have been formed to increase the performance opportunities for all musicians.
Programs are in place to cater for the children with special needs. A teacher's aide implements individual and small group programs which are established by the Special Needs teacher.
Our whole school concerts are held every other year at the Concourse Theatre in nearby Chatswood.